The Minky Hoodie is back! And we have some exciting new updates on how we're making our *limited run* of Minkies for the holiday season...
When Zappy Dots closed, I knew I was shutting the door on running a full-scale notions and apparel manufacturing business. However, the spark that was left behind is something that's always been close to my heart: Helping others "connect the Dots" between their creative dreams and reality. With any future Zappy Dots projects, I want to make sure we're giving you a place to express
your
unique style and creativity. It's through that lens that our
Dot-preneur Program
— and now the Minky Design Derby! — was born.
I hope you enjoy adding your own creative flair to our beloved Minky Hoodies! It's going to be as easy as…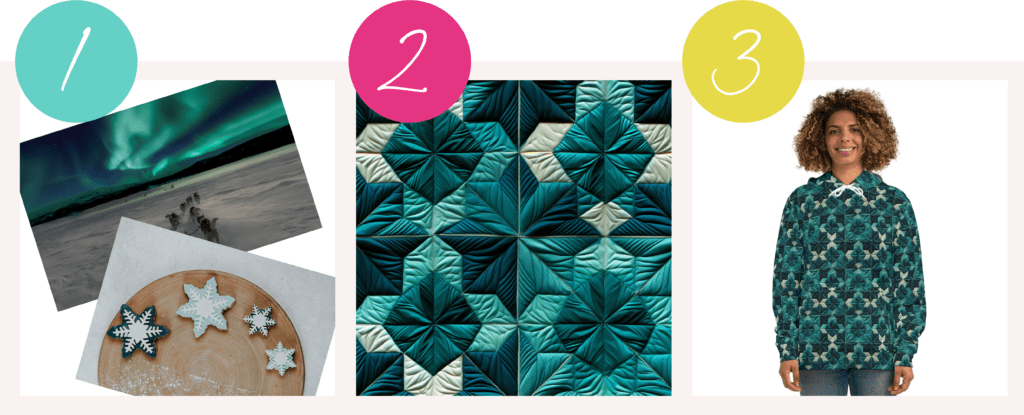 What is the Minky Design Derby?
We all have those favorite things that bring us joy and make us feel fabulous every time we look at or wear them. This can be a dress, a painting, a beautiful photograph, your grandmother's vase, or an intricate quilt or stitch project. Why not let those inspire you in other aspects of your life as well? Let's turn YOUR
 inspiration into a playful pattern for Minky Hoodies!
We're kicking off our Minky Design Derby to help you make the Minky Hoodie of your dreams!
Here's how the Minky Design Derby works:
Step 1: Sign up: The Minky Design Derby entry fee is $25 and allows you to:
Inspire a Minky pattern, which will be added to our Design Derby collection and put to a public vote*. (No design experience necessary — you simply send us your inspiration and creative direction, and we create the pattern.)
Derby participants will get "first dibs" on purchasing our limited run of Minky Hoodies** before the general public. (Sizes available: S-5XL)
The winning design with the most votes gets a FREE Minky Hoodie in their print. 
All participants will receive a JPG of their seamless pattern for personal use in future projects (scrapbooking paper, fabric printing, or digital designs).
Step 2: Once you've signed up, send us your inspiration now through October 14! You don't need any design experience — the Zappy Dots design pros will handle that part — you just need to put on your creativity cap and submit any mix of the following to zappydots < @ > gmail.com:
Your favorite color palette.
A brand of clothing you like.
A photo of something you love. (This can be from nature, an article of clothing you like, a piece of artwork, etc.)
A style or texture of pattern you'd like on a Minky — quilt, cross stitch, embroidery, watercolor, crochet, etc.
A written detailed description of what your dream hoodie would look like.
Step 3: We'll compile all of our Derby participants' patterns and put them on our blog. You can vote for your favorite patterns October 19-26!
Step 4: We'll announce the top 6 winning designs of the Minky Design Derby on October 30.
Step 5: Minky Design Derby participants will have the ability to pre-order hoodies October 30-November 1.
Step 6: On November 2, the remaining inventory of Minky Hoodies in sizes S-5XL (and some additional fun, gifty products!!) in the winning designs will be available to the public for purchase!**
Enter the design derby then send us Your design inspiration… 

we'll turn it into an entirely unique pattern & put it to a vote…

and the top designs will get made into minky hoodies!

Please note: These hoodie graphics are mockups only to show how a design would look at full scale. The finished Zappy Dots Minky Hoodie does not have a white "hood tie" as depicted here. 
* Unfortunately we won't be able to make every submitted design into a hoodie. By entering we cannot guarantee your print will make it into the final 6 designs chosen by the public. 
** Our Minky fabric supply is limited, and we want to ensure your hoodie orders are done in time for the holidays (they're each made by hand in the USA and take up to four weeks to produce and ship!). With these things in mind, we will close Minky orders December 1 or when we run out of inventory, whichever comes first. Please order your hoodie as early as possible to ensure you get one!! 
How We'll Transform Your Inspiration into Artwork
Imagine the Design Derby as an exhilarating race where your inspirations are the contenders. You provide the spark, the idea, the dream, and behind the scenes, we take those dreams on a thrilling design ride! Our designers combine traditional design principles with modern techniques to turn your inspiration into fun and functional seamless patterns that we can use for a Minky Hoodie.
As we take this creative journey and connect the dots between your inspiration and Zappy Dots designs, please consider the Minky Design Derby a new and unique exploration. Its future is a blank canvas… and your participation is helping paint what comes next! 
Dive in with us, and let's celebrate the art of design and the warmth of Minky coziness this season:
Whether it's about the Derby, or just general questions about the Zappy Dots Minky Hoodie — including size charts, shipping times, and more — we have you covered! Please visit our Minky Hoodie FAQs page here: 
A walk down minky memory lane…
We understand why Zappy Dots has gotten so much Minky love over the years — and why we've continued to hear requests for Minky Hoodies even after we closed our doors! The minky fabric is unbelievably soft and cozy, and our hoodies were once described as akin to "wearing a warm hug".
We work with a wonderful US-based manufacturer who prints, cuts, and sews everything right here in the USA.
Here are some of our top-selling designs from past seasons: