About the Minky Design Derby:
What's the Minky Design Derby?
You can read the full details here, but here's the gist: We're bringing back Minky Hoodies for a limited time, but this time we're involving you in the creative process. We're asking whomever is interested to sign up for our Derby through 10/14 (no design experience necessary!), at which point you'll send us a description, link, or photo of your inspiration for your dream minky hoodie print to zappydots < @ > gmail.com. (This can be colors, a photo you love, a quilt you've made… anything!) We'll create prints and patterns based on our Derby participants' input, and then we'll put all the prints to a vote. The top 6 designs will go on to be made into Minky Hoodies.
What are the perks of signing up for the Minky Design Derby?
The Minky Design Derby entry fee is $25 and gives you the following exclusive benefits:
Inspire a Minky pattern, which will be added to our Design Derby collection and put to a public vote*. (It's simple and quick: You send your inspiration and creative direction, and a Zappy Dots designer creates the print!)
Derby participants will get "first dibs" on purchasing our limited run of Minky Hoodies before the general public.
The winning design with the most votes gets a FREE Minky Hoodie in their print. 
All participants will receive a JPG of their own seamless pattern for personal use in future projects (scrapbooking paper, fabric printing, or digital designs)
Do I have to sign up to be in the Derby to buy a Minky Hoodie?
No! You'll just have to wait until November 2 when our shop opens to the public. Derby participants get first dibs Oct. 30-Nov 1. We do have limited supplies, and we'll be shutting down in early December (if we still have supplies) so we can ensure hoodies arrive in time for the holidays, so we highly recommend you get your orders in early!
Are Minky Hoodies — or any other apparel — going to be available after the Design Derby?
Currently, we are not planning on bringing back Minky Hoodies or any of our apparel on a permanent basis. Depending on how the Derby goes, we may offer a future event or limited edition run on hoodies or other apparel items, like our popular v-neck tees, but as of now, this is our only offering.
What are the Derby dates?
Here's a calendar of dates for the 2023 Minky Design Derby. (You can also view all dates and details on our blog here.)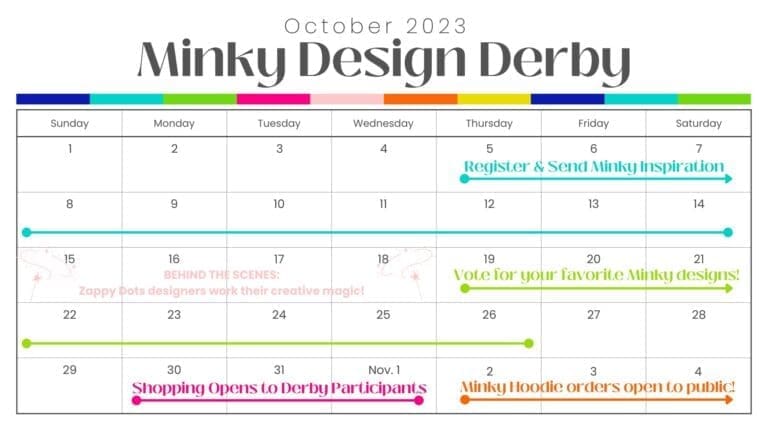 Longtime customers of Zappy Dots remember the Minky Hoodie fondly — in fact, it's their relentless enthusiasm that encouraged its limited-time comeback! We promise this is the most luxuriously soft top you'll ever own – and possibly the most vibrant, too! We take one-of-a-kind digital patterns and turn it into a specialty minky fabric that's velvety to the touch, rich in color, and long-lasting. We then have it sewn into cozy, one-of-a-kind hoodies!
Where is the Minky Hoodie made?
This small-batch sweatshirt is made to order and is fully designed and produced in the USA.
How long will it take to receive my Minky Hoodie order?
Please note that because these are all pre-ordered in batches, then made with love one-by-one, your order can take up to four weeks to ship. We'll be cutting off orders Dec. 1 (or before if we sell out) to ensure orders arrive by Christmas.
What's the fabric composition?
This hoodie is made from an ultra soft, short-pile minky fabric that is 100% polyester.
How do I care for my Minky?
For best results, wash in cold water with no fabric softener. (Fabric softener will reduce the velvety-feel of your minky fabric.) Hang to dry, then place in the dryer on an air setting to fluff.
Do you have a Minky Hoodie size chart?
Yes! Minky Hoodies are available in S-5XL. Here is our size chart: