PLEASE NOTE:  Our Minky Design Derby is now CLOSED.  


We're ready for phase two of the Minky Design Derby! Now it's time to vote on your favorite Minky Hoodie contenders for our limited-edition Holiday collection. Keep scrolling to see all of the finalists, then vote on your favorites here in the comments, on Instagram, or on Facebook (or even all three!) by Thursday, October 26! We're also giving away a free hoodie for sharing this event (more details below).
The winning designs will be available for purchase for a limited time beginning November 2.
Pick Your Patterns: Vote on Your Favorites Through October 26
Voting is easy: Just choose your favorite patterns and leave the number(s) in a comment on this post, on our Facebook post, or the Instagram posts. You can even boost the chances of your design winning by voting on all three spaces!
And in the spirit of sharing creativity, we're also giving away a FREE MINKY HOODIE to one person who tags a friend and/or shares the Minky Design Derby on social (just be sure to tag @zappydots so we know you've shared!). Winner will be chosen at random and notified October 30th.
Here are the Minky Design Derby finalists:
A Walk Down Minky Memory Lane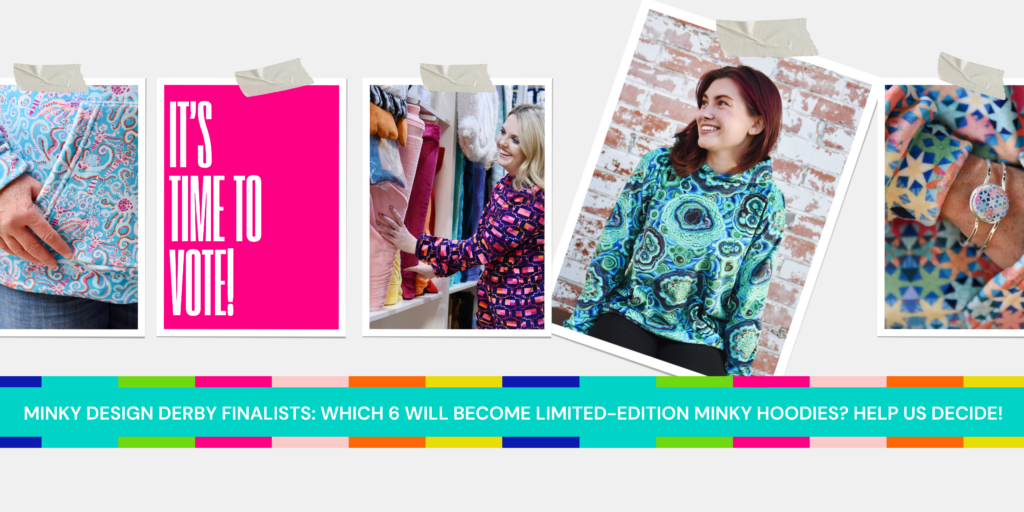 As you dive into these amazing new designs, we want to reminisce about the original Minky Hoodie! Many of you experienced the fabulousness that was the Minky Hoodie when Zappy Dots was in the apparel business. It was our top-selling apparel product, and with good reason — we're still hearing how much people love their Minkies!
If you're a Minky fist-timer, we'll fill you in on what makes them so special: The fabric is an ultra luxurious plush poly that we custom print with vibrant patterns, then sew (in the USA!) into an ultra-cozy-yet-lightweight hoodie ranging in size from small to 5-XL. They're fabulous and fun, and they're impossible to find anywhere else — or so we've been regularly reminded! 😉
It's actually your requests and continued excitement that encouraged the Minky Design Derby! For this limited time come-back, we knew we wanted to "connect the Dots" between your creativity and our Minky designs. Derby participants sent in a variety of inspiring ideas and photos — including some seriously amazing quilts! — and the Zappy Dots design team turned them into repeating patterns, which are now up for a vote!
So, show your support for the creative minds that made these designs happen, and help us crown the ultimate Minky Hoodie champion! The winner gets a free hoodie, and the top 6 designs will be available to order as Minky Hoodies starting November 2. Here's to a cozy and colorful winter season!